Ever since the COVID-19 pandemic, the use of online education and online learning platforms has become more widespread across the world. But now that children have returned to traditional classrooms and they can resume face-to-face interactions again, should they still use online learning in the first place?
Some officials consider the answer to be yes, including Singapore's Ministry of Education, and we're here to tell you why! In this blog post, we'll go through 6 undeniable advantages of online education for children today and why parents shouldn't pull the plug on the learning method just yet. After reading this post, parents will look at online education as more than just the COVID-19 era method of learning.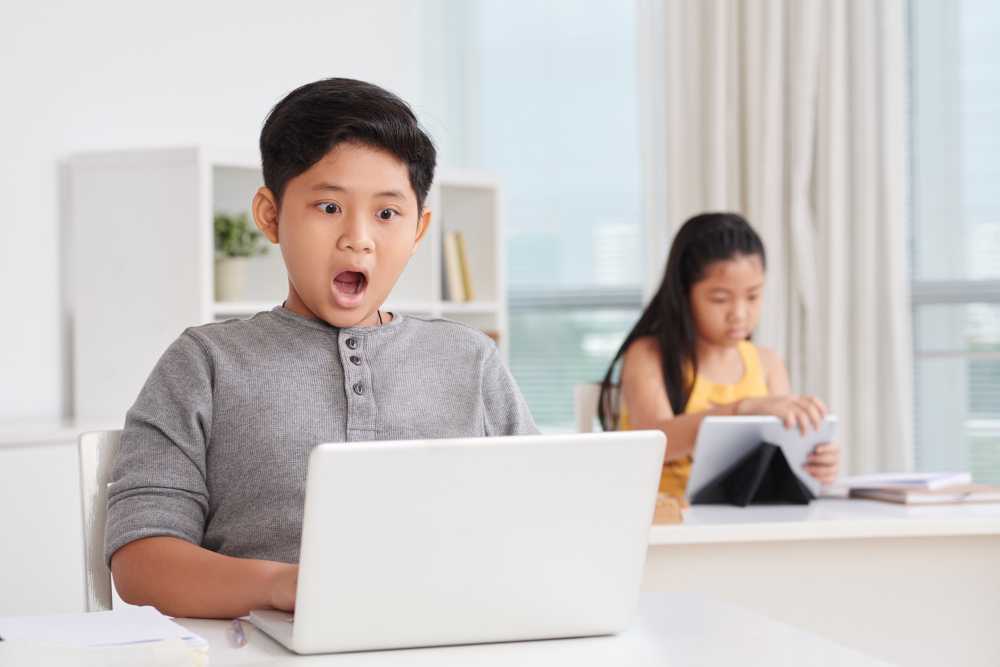 They can have class anywhere!
Unlike the traditional classes in school, where children rotate between the same set of spaces, they can learn at any place of their choosing with online education! As amazing as some school classrooms can be, sometimes it can feel stifling for kids, since they know that when they enter that space, they have to study. There's a reason why some children dread coming to school even if they get to spend the day with their friends and classmates. But with online education, the places where students can learn are endless! As long as children have an appropriate device and a steady Wi-Fi connection, they can learn wherever they choose.
Whether they learn on land, across the sea, or even high up in the sky — any place can be their class for the day! 
They can learn at any time!
Another beauty of online education – children can also choose when school starts! The course content and course materials offered across digital learning are available 24/7. There's no set of opening hours children need to follow. Not all kids can learn with the same study schedule, after all. It's no surprise that some students prefer to study later in the day when it's proven that our brains often work best after 10 AM in the morning. In traditional schools, kids are forced to begin studying from 7 to 8 AM in the morning – no matter their learning style. But with digital learning and its online courses, they can start their learning at a time that suits them best! Not only can they can begin studying whenever they want, they can also continue for however long they like!
Whether your child studies more effectively in 15 minute sessions or 1 hour sessions, digital learning caters to them all!
They can personalize their learning experience!
Sometimes, it's simply too hard to cater to every child's learning needs and wants, despite the school's best efforts. While teachers can further personalise their teaching to the class, most still refer to a more generalised learning approach that fits everyone the best. But with an online education, your child can adjust their learning to fit their respective learning styles and preferences!
For example, if your child learns best with visual resources, they can choose to study from the video explanations that most online learning platforms provide. If they prefer to learn through constant revision, they can utilise the practice questions and mock tests available after they finish a topic. Children can also use other tools and resources in online learning that they couldn't use otherwise in schools! For example, your child is free to listen to music to help them focus on a task. They can also access their favorite social media sites during breaks if parents permit them.
Everything they need is in their fingertips!
One of online learning's most favored features – its convenience and accessibility! Most online learning platforms' learning management systems work on several devices, ranging from home PCs to mobile phones. It doesn't require any knowledge of computer science to operate any of these platforms. Not to mention, these platforms offer a wide variety list of skill based learning resources, including video explanations, practice questions, and online textbooks.
Everything your child needs to learn – online learning conveniently provides them all. With online learning, kids won't need to bring home a stack of papers for their homework or burden their shoulders with a backpack of school books. In what other situation can you say that you hold your entire education in your hands?
They learn to be more responsible!
With how much freedom and control kids get to have in online learning, they essentially become their own boss. This means that aside from learning the normal school topics, kids also learn to be responsible for their own decisions – much more than in traditional classrooms! Because as fun and enjoyable online learning can be, it doesn't change the reality that your child will still have to test their knowledge in tests and exams. The result of their learning will be reflected in the grades they'll receive – which will be incredibly important for their future education.
And the extent of their knowledge heavily relies on the decisions kids make while learning on online platforms. Yes, they can study for 15 minutes if it suits them – but if they choose to slack off and not continue the sessions, then children won't receive the knowledge they need to pass the exam. Yes, they can choose when they want to study, but they need to act true to their word and actually study when the time comes. Online education gives children the ability to review the weight of their decisions more closely than before.
They can grow familiar with the digital future!
With how technology continues to develop over the years, it's not far-fetched to predict that the future will be far more digital than we'll think. The demand for online interactions is also steadily increasing day by day. For instance, online education isn't limited to only children. Many higher education institutes have already offered top notch online degree programs and distance education master's degrees with massive open online courses for students worldwide. Hundreds of companies have also adopted a fully remote working environment after witnessing its benefits on the company and its employees. By being familiar with the online world from a young age, children can enhance their soft and hard skills necessary to adapt to the digital world in the future!
Start your child's online education with Practicle! 
Online education provides kids with an incredibly beneficial blended learning experience and learning environment that they wouldn't receive in traditional schools. If you're still unsure on whether transitioning to online is best for your child, you can start small by using online learning for certain subjects. For instance, if your child struggles with math in particular, they can polish their math skills with Practicle's gamified math learning app! Our MOE-based curriculum and gamified features, such as daily quests and prizes, provides a fun and better way for kids to learn math on their own. Experience the app yourself with no commitment required with our 7-day free trial!