Online learning platforms are becoming a popular solution for parents who want to improve their child's education — and for good reason! If you're not aware about them, online learning platforms are platforms that offer educational content and resources for students, allowing them to study more flexibly and engagingly. These platforms are a convenient way for children to learn at home just like they do at school. Unfortunately not all platforms are suitable for children. Some top online learning platforms, such as Udemy and Coursera (focused on higher education and professional development), have online courses and features that are more suitable for teenagers and young adults. With a lot of platforms to choose from, it's hard to find ones that are designed for primary school children. In this article, we'll go through 7 top notch online learning platforms that are suitable for children in primary school and the criteria you need to consider when selecting one for your child!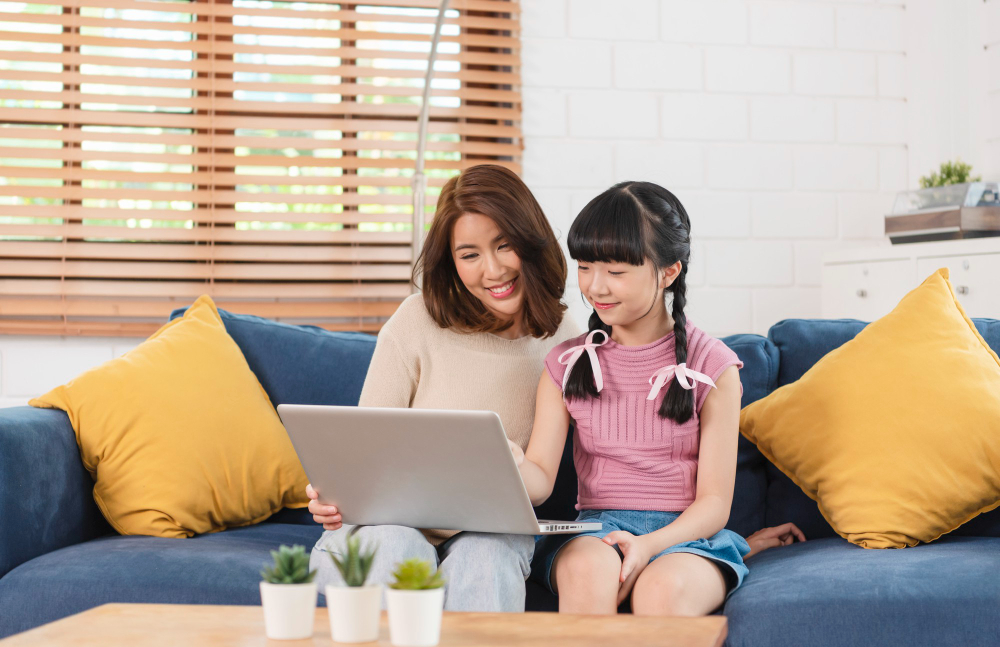 What to Look For When Choosing Online Learning Platforms for Children
Before we go into the list of online learning platforms, it's important to know what type of platform is suitable for young children. Here are some important criteria that you need to note while selecting a platform for your child!
The platform offers appropriate learning content for your child
Find platforms whose content caters to not only your child's age, but also their current learning level at school. Remember to check each platform's target audience, since not all of them focus on the same age group of children. Remember to also explore together with your child when choosing to know which content they prefer!
The platform is easy for kids to navigate
It's not enough for the platform to be user-friendly, it also needs to be child user-friendly. Find platforms that children find easy to use, so they'll spend more time learning instead of wandering in it. Although children are now more tech-savvy than before, don't choose a platform that will be difficult for them to learn.
The platform's content and resources are actually effective for your child
Most learning platforms have a lot of the same resources nowadays — educational videos, quizzes, games, you name it. The trick is to find out which ones your child enjoys learning with. Each child learns differently, so learn what works best for them and choose a platform that has the right resources!
The platform allows parents to be involved
Since your child is learning online and outside of school, it's important for parents to supervise their learning and keep track of their progress. This way, you can feel more confident in leaving your child to learn with their gadgets or devices. When both the parent and the child feel at ease, the learning experience will be much easier!
Summary of Online Learning Platforms for Primary School Children
To give you an easier time deciding, here's a list of the online learning platforms we will cover in this article!
Practicle: A gamified math learning app that teaches Singapore math to children aged 7-12 years old from all primary school levels, from Primary 1 to Primary 6
Outschool: An online learning platform that offers individual courses live for various topics, both school-related and hobbies, for kindergarten to high school students
Epic: A digital library with interactive learning resources for children aged 12 and under to polish their reading skills
Duolingo ABC: A free educational app for children aged 3-7 years old that offers fun and interactive lessons in reading and writing
Khan Academy Kids: A free learning app with interactive learning activities for multiple subjects for children aged 2-7 years old
BrainPOP: A learning platform that offers animated educational content across multiple school subjects for all primary school levels
Adventure Academy: An immersive adventure game that teaches children ages 8-13 years old through fun quests and challenges
Practicle
If you're looking for an interactive tool to help your children upscale their math skills, try us out! This learning platform specialises in teaching Singapore math to primary school children aged between 7 to 12 years old. Practicle is unique as it teaches students through its gamified math learning app! The platform uses video based and AI and gamification to personalise children's learning experience. By providing daily math quests that suit your child's math learning level and interactive features such as daily prizes and pet avatars, learning will be more engaging! Practicle also offers math practices for all primary school levels, from Primary 1 to Primary 6. This means all primary school children, no matter their grade or age, can easily use Practicle and its resources! What's even better is that not only does Practicle's curriculum match with Singapore's MOE math syllabus, it's also certified by the Education Alliance Finland (EAF)! Practicle also has several other amazing features, such as:
Parents access (uses parent's email to sign up and receive progress reports)
Entertaining video tutorials
AI math tutor (to guide your child's learning experience)
The platform offers a free 7-day trial for newcomers and affordable pricing plans of $19.99 SGD/monthly subscription and $29.99 SGD/month with unlimited access. Practicle is suitable if your child only needs to learn Singapore math. If they also need help in other subjects, you'll have to search for other platforms that have content for the topics they need.
Outschool
If you want a platform that offers live classes where your child can still interact with peers and teachers, you can check out Outschool! Outschool is an innovative learning platform that offers online classes for a variety of topics ranging from school subjects to children's interests. These classes are offered individually instead as one big package, so your child has the option to choose which class they can attend! Outschool also doesn't offer recorded content, rather the classes are all taught by dedicated teachers in real-time. It has classes that cater for students across kindergarten and high school – kind of like a one-size-fits-all option! The platform is perfect for creating friendships and learning about things outside of school – hence the name, Outschool. This platform also offers other features such as:
Flexibility to choose topics and classes
140,000 ready-to-join interactive classes
Full homeschool curriculums from kindergarten to high school
But! There are some things you should note. Since Outschool only offers live classes, your child cannot learn on their own time and pace like they can with platforms that offer 24/7 content. All classes are offered individually, so parents will also have to pay for each class, which ranges from $10 USD to $70 USD.
Epic
If you want to improve your child's reading skills, we highly recommend you to try out Epic! Epic is an online platform that provides over 40,000 online books suitable for children aged 12 years old and under. You can think of Epic as a digital library, highly accessible for children, among more amazing features that will help your child see reading as fun. First, it can be a personalized library, since its AI allows the platform to recommend books based on your child's age, preference, and reading skills. By having the right books for them, children can read with confidence and not feel like they're falling behind. Epic also offers all kinds of books and resources. They don't just have digital books, both fiction and non-fiction, the platform also has audiobooks, read-to-me books, and graphic novels! Not only that, they also have learning tools that make reading much easier, with features such as word games, educational content and quizzes, and a Dictionary Lookup! Epic also has other amazing features to make reading fun, such as:
Parent dashboard (to follow their child's reading progress and recommend books)
Gamified features (reward buddies and badges to make reading more engaging)
Easy-to-use interface, so children and parents can access books easily
Epic offers affordable price plans of $9.99 USD/month (monthly plan) and $6.67 USD/month (yearly plan). Each of these plans have a free 7-day trial to get you started. But! While Epic is a fantastic digital library, it does not offer content and resources for your child to learn school topics. You'll need to explore other platforms if you want that function.
Duolingo ABC
If you want your child to learn reading and writing skills, we'd recommend trying Duolingo ABC! Duolingo ABC is an online learning app that provides fun and engaging lessons in reading and writing for children aged 3 to 7 years old. Similar to Practicle, Duolingo ABC teaches children in the style of a game, believing in the concept of "learning through play". It uses interactive storylines and fun characters to help kids enjoy reading and writing – sometimes without them realizing it! Duolingo ABC's curriculum is divided into four main areas: phonics, handwriting, sight words, and vocabulary. The platform's curriculum has been backed by the National Reading Panel, so you know that it's trusted! This app is for free, without ads or pricing plans to worry about, both parents and children can start using the app right away. Duolingo ABC also provides features such as:
Quick interactive lessons (instead of spending 15 minutes to learn, children can finish lessons as quick as five minutes!)
Parental use (parents can monitor children's progress with their parent email)
Personalized learning levels (children can learn in their own pace with stories that are suited for them)
But! (There's always a but…) Duolingo ABC is only suitable for children who still need to polish their reading and writing skills, which typically extends to children in Primary 2. Similar to Epic, it does not offer content for other school topics and learning levels.
Khan Academy Kids
If you want a platform that offers free learning resources for a range of school topics, Khan Academy Kids may be your answer! Khan Academy Kids is a free educational app that offers thousands of interactive learning activities for children aged 2 to 7 years old to learn core subjects such as early literacy, English, and math as well as develop social-emotional skills! The app was designed with the help of Stanford experts and matches with the Head Start Early Learning Outcomes Framework (HSELOF) and Common Core Standards. Khan Academy Kids has several fun characters, including a narrator named Kodi Bear, that guide children's learning journey. Much like Practicle, the app also takes children on an adaptive learning path, meaning they can learn at their own learning level without any pressure! Outside the app, Khan Academy Kids also offer printables that children can use to learn away from their devices or gadgets. The platform also has a connected Youtube channel, offering interactive stories that children can learn from without even knowing it! A number of other features are also available, such as:
Independent and flexible learning
Thousands of interactive books, games, and animated content
Child-friendly interface
But (yes, again). Khan Academy Kids only caters to young children up to Primary 2. It doesn't offer content for the levels beyond that, so you'll need to look for other resources if your child is above Primary 2.
BrainPOP
If you want a platform that caters to all primary school levels and has content on various subjects, you can try BrainPOP! BrainPOP is an online learning platform that offers a lot of interactive features, such as animated videos, interactive quizzes, learning games, and educational movies for multiple subjects, including science, social studies, math, and English. BrainPOP's content is meant for children from K-3 to Grade 8, which includes every level in primary school. This means if you choose BrainPOP for your child, they won't have to use or change to other platforms throughout their primary school journey! BrainPOP also has various learning packages depending on your needs. If you want a platform that your child can use to learn after school, you can use BrainPOP's family package that already has all of the features mentioned earlier. If you're keen on homeschooling your child, you can try out BrainPOP's homeschool package, which includes additional features such as curriculum-based assignments and creative projects to make homeschooling easier and fun for both parents and children! Here's some other features that BrainPOP offers:
Parent timeline (for parents to track children's learning progress)
Multiple child profiles (parents can use one account for multiple children)
Fun and unique characters (to guide children as they learn topics)
In this case, the challenge may be BrainPOP's price, as it costs slightly more than other learning platforms. BrainPOP's family combo package (which combines the K-3 and Grade 3-8 content) starts at $13.25 USD/month. Meanwhile, BrainPOP's combo homeschool package starts at $49.95 USD/month.
Adventure Academy
This platform is the closest you'll get to a video game, we are referring to Adventure Academy. Adventure Academy is an immersive educational adventure game that caters to children ages 8 to 13 years old. It uses fun quests and adventures to teach four across various school topics, including but not limited to: language arts, math, science, and social studies. Plus you can enjoy plenty of features like customisable characters, multiplayer environments, customisable player homes, etc. Adventure Academy can also be used on multiple devices, including laptops, tablets, and smartphones. You can also find these features in Adventure Academy:
Various types of learning resources (graphic novels, books, recorded videos, crash courses, animated series, and more!)
Bonus lessons on non-school topics (such as technology and music!)
Expansive gaming grounds that looks like an actual academy
Parents section (to track children's progress and manage their account)
Adventure Academy's price plan costs $9.99 USD/month and you can get one month free when you first sign up! It's important to note that Adventure Academy may not be available for certain countries. The app doesn't specify which countries they cater to, so you'll need to search for the game in the App Store and see if it's available.
Try these platforms out!
Online learning platforms may be the key to help children learn at home. With these 7 child-friendly options and the criteria to choose them, you'll find one suited for your child in no time!