Is your child's first day of school coming up? Are you confused on what to bring and prepare? The first day of school can be pretty daunting for parents. You don't know what you should expect and you're worried that you haven't prepared enough for your child for a great first day– the fears can go on and on. If this is the case, then you'll need a first day of school items list! In this blog, we're going to go through the ultimate checklist that parents will need for their kids' first day of school! This checklist covers not only what you need to do on the big day, but also what to do before and after.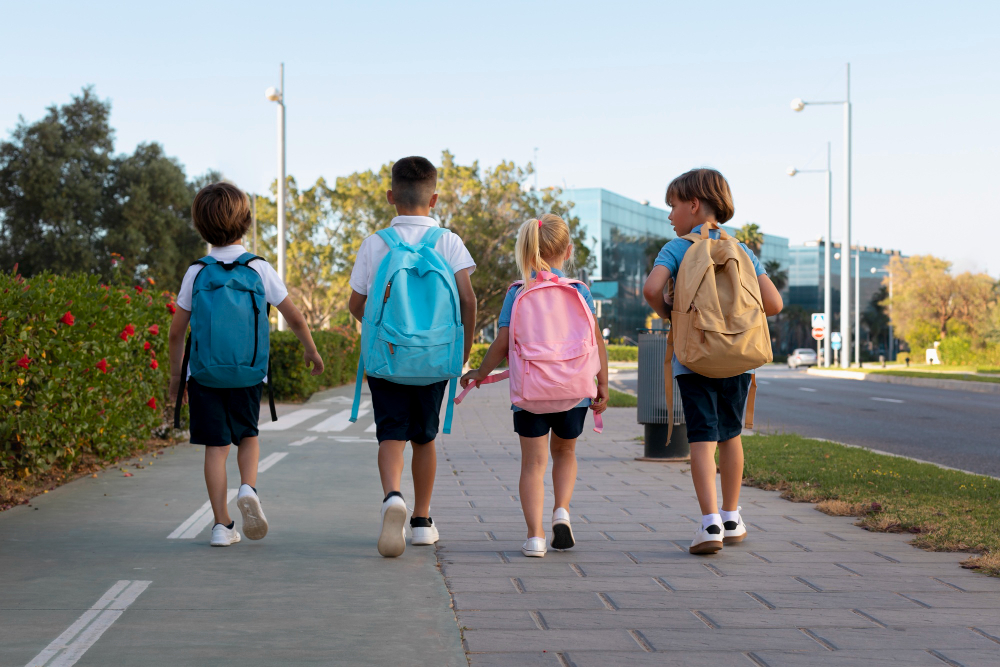 The Pre-Day Checklist
"The first day of school is always a fashion show. The rest of the school year? A pajama party." ― Unknown Prepping for the first day of school doesn't happen overnight. Here's a pre-day checklist of things you need to do before the big day:
First, take note of any school supplies and necessities that you need (scroll down below to have a full checklist!). Make a list of things that you have and don't have in your home. Then, go shopping at least a week before school starts so you'll have time to get everything.
Give your child a check-up
Of course, your child needs to be healthy if they want to go to school. So, visit the pediatrician beforehand to make sure they're in top shape. If they have any allergies or health conditions, ask for a doctor's note to give to the school.
A meal plan doesn't just mean the lunches you'll make for your child, but every other meal as well! List down simple meals for your child's breakfast, lunch, and dinner for the first week of school. Planning ahead will let you prepare the ingredients as well as save time and energy.
Establish a routine for your child during school days. This includes their morning routine (ex: the time they wake up, preparing their backpack) and night routine (ex: doing their homework, the time they sleep). Then, practice together with your child so they'll know what to do on the big day!
You're probably not the only one who's nervous for the big day – your child is too. So first, try to talk to them and have them share their feelings with you. Then, soothe down any fears and cheer them up with all the great things that can happen on their first day. If you need some inspiration, scroll down to see some helpful quotes to help your child's first day of school!
The School Items Checklist
"There is only one thing bigger than a kindergartener's curiosity, and that's their backpack." ― Unknown Parents often don't know just what they should pack. So, the best solution is by having a school items checklist of exactly what your child may need! Here's the checklist of school items to help you prepare!
Stationery

Pencils
Pens
Pencil sharpener
Erasers
Ruler
Pencil case
Pen corrector
Notebooks
Glue stick
School books

Wallet

Lunch money
Student ID card
Parent card with phone number
ID photo

Food

Lunch
Lunch box
Utensils
Water bottle

Health and hygiene

Dry tissues
Wet tissues
Hand sanitiser
Medicine (if needed)

Clothes

Shoes
Socks
Hat (if needed)

Others

Phone
Spare clothes (if needed)
Reusable bag
Umbrella / raincoat
Lots of love
Motivational school wishes and message
The After-School Checklist
"Be an encourager. The world has plenty of critics already." ― Dave Willis The first day of school doesn't end when your child goes home, it ends when both of you goes to sleep. Here's the after-school checklist to end the day!
Ask your child about their day
First, ask your child to share about their day at school. By letting their feelings out, your child will feel more refreshed and less tied down after the school day. This will also help you get a taste of what they learned in school and how it will be like for them in the future.
Work out any problems together
Then, if other kids bother your child or if they haven't made any friends yet, try to work out a solution with them together. Give them advice on how to get through the situation and how to keep their head up high. Finally, help them find the silver lining – something to look forward to that will make them love school and have a lot of fun!
Now that you've gone through the happy first day, it's time to prepare for the next term ahead. Help your child do their school routine (packing their backpack, getting ready to sleep, etc). Then, continue to do your own part for the next day of school activities – preparing their lunch, setting the alarm, etc.
The Inspirational Quotes Checklist
Not being nervous for your child's first day is hard. No matter how prepared you are, you'll probably still feel anxious until the big day. Well, allow us to tell you that thousands of families have gone and overcome the same thing, and so can you! Here are the first day of school quotes that have helped families finish the big day with a bang:
Quotes for parents:

"No one is perfect – that's why pencils have erasers." ― Wolfgang Riebe
"Take a leap of faith and begin this wondrous new year by believing." ― Sarah Ban Breathnach
"What feels like the end is instead often the beginning."
"To raise a child who is comfortable enough to leave you means you've done your job. They are not ours to keep, but to teach how to soar on their own."

Quotes for kids:

"Look at you, being so brave to set out into the world!"
"Make friends, make smiles and make memories!"
"You're off to great places; today is your day, your mountain is waiting, so get on your way!" ― Dr. Seuss
"Don't try so hard to fit in, and certainly don't try so hard to be different… just try hard to be you." ― Zendaya
Start off school right with Practicle!
Congratulations, now you know what to prepare for your child's first day of school! When the first day is over, the next thing to focus on is helping your child study. If they're struggling with math in particular, try us out! Practicle's gamified math app helps children from Primary 1 to Primary 6 learn math concepts easily and in a fun way. Our cute pet avatars and fun math games will make children learn to love learning math! If you're not ready to commit, try out our 7-day free trial instead to learn more!