If you want to have fun with your child, you should keep a lookout on some children activities in Singapore that you can do together!
Singapore doesn't only have its Merlion or Marina Bay Sands as its entertainment.
There are hundreds of children's facilities and locations that are perfect to spend the day with the family, including for Children's Day activities!
In this article, we'll show you 30 spaces where you can do exciting children activities with your child around Singapore!
We have a comprehensive list, from indoor activities, such as playgrounds and museums, to outdoor recreations, such as go-kart circuits!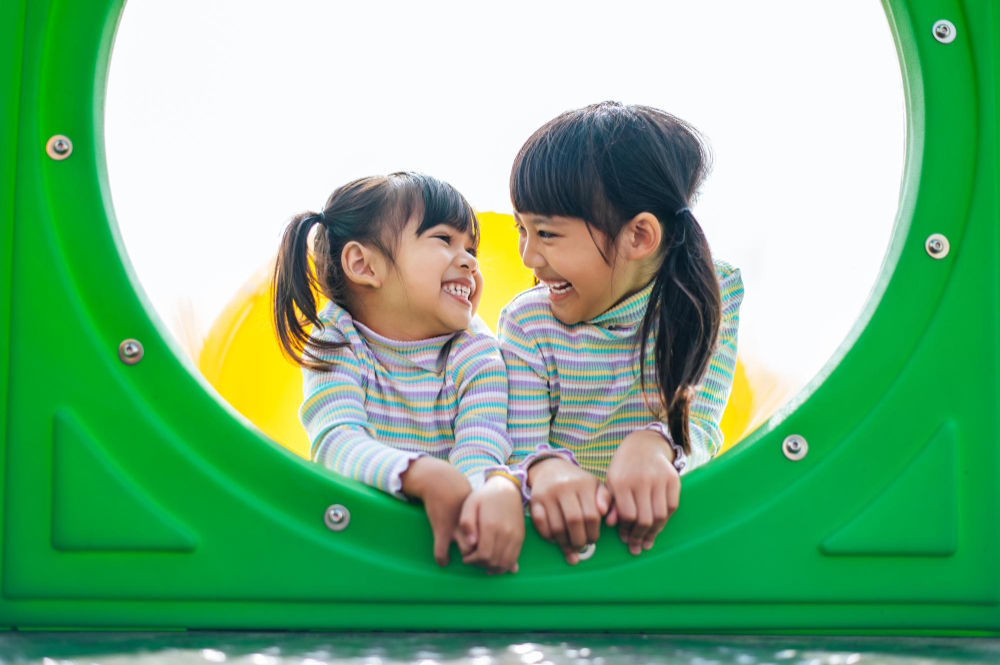 INDOOR ACTIVITIES
1. Kiztopia Marina Square
Kiztopia is a favorite indoor attraction among families across Singapore, with its flagship outlet located in Marina Square.
The 18,000 square feet facility houses various play areas and edutainment activities for children.
From thrilling two-storey slides to humongous ball pits, Kiztopia Marina Square is a great destination for families to spend Children's Day in Singapore!
With its own restaurant nearby, the indoor playground embodies their motto "Play, Learn, Eat, and Bond" very well.
Opening Hours: 10 AM – 8 PM
Address: 6 Raffles Boulevard, #01-09, Singapore 039594
2. T Play at Khatib
T Play at Khatib is a fantastic indoor playground that promises hours of fun for children.
The playground embodies a Peranakan cultural theme, showcasing the heritage through playful activities for children aged 12 and under.
T Play at Khatib features multiple games and play areas, including a climbing slide tower and a foam ball shooting arena.
Experience a 360 degree tour of the playground here!
Opening Hours: 1 PM – 7 PM (Closed on Mondays)
Address: 2 Yishun Walk, Level 1, Singapore 767944
3. Pororo Park
If your child is a "Pororo" fan, then this indoor playground is simply a must!
Pororo Park is the first character-based playground in Singapore.
The 11,000 square foot facility houses various attractions and play areas based on the Korean animated show.
Children up to 12 years old can play as if they were in the TV show and meet with their favourite characters in real life!
Opening Hours: 10:30 AM – 8 PM
Address: Raffles Blvd, Marina Square, Singapore 039594
4. Tayo Station
If your child is more into buses and transportation, have them watch "Tayo the Little Bus" and come to this indoor playground!
Similar to Pororo Park, Tayo Station is an indoor playground based on the animated show "Tayo the Little Bus".
The playground offers various edutainment play zones within its 10,000 square feet facility, including a road circuit and sensory station!
Opening Hours: 10:30 AM – 8 PM
Address: 1 Pasir Ris Cl, Level 3 E!Hub, Singapore 519599
5. JUMPRROCKS
If your child loves jumping, then this indoor trampoline park is the perfect place for them!
JUMPRROCKS is an exhilarating indoor attraction with various bouncing attractions for children of all ages.
JUMPRROCKS offers a vibrant and enjoyable experience that will have kids jumping for pleasure with its large trampoline arenas, foam pits, dodgeball courts, and thrilling obstacle courses.
Opening Hours: 3 PM – 7 PM (Closed on Mondays and Tuesdays)
Address: 11 Tanjong Katong Rd, B1-05 Kinex Mall, Singapore 437157
6. Snow City
Tired of the Singaporean heat? Let your family cool down inside Singapore's first indoor snow centre!
Snow City delivers permanent snow all year round inside its sub zero snow chamber.
Its 10 to 15 tons of snow allows families to experience their own winter wonderland, with fun attractions such as a 60 feet snow slide and a snow playground!
Opening Hours: 10 AM – 5 PM (Closed on Mondays)
Address: 21 Jurong Town Hall Rd, Singapore 609433
7. The Rink Singapore
Want to teach your children ice skating without having to go overseas? Look no further than in The Rink!
The Rink houses Singapore's first Olympic-sized indoor ice skating rink.
While it's often used for international and formal skating events, The Rink also offers a public ice skating session for families to join.
Children can spend the day skating and chilling in The Rink. They can also get taught to skate with The Rink's Learn to Skate (LTS) program!
Opening Hours: 10 AM – 9:30 PM (7 PM on Tuesdays)
Address: 2 Jurong East Central 1, #03-11 JCube, Singapore 609731
8. Science Centre Singapore
Want to let your child learn and have fun at the same time? Encourage their curiosity at the Science Centre Singapore!
Children can immerse themselves in the realm of science and learn about the wonders of technology and engineering through its interactive exhibitions, practical experiments, and fun workshops.
They can also learn first hand about our natural world through the center's 8K 3D digital dome theater – a proud Southeast Asia first!
Opening Hours: 10 AM – 5 PM (Closed on Mondays)
Address: 15 Science Centre Rd, Singapore 609081
9. SEA Aquarium
Is your child a fan of the ocean? Have them explore the wonders of the ocean in Singapore's S.E.A aquarium!
Located in Sentosa Island, Singapore's S.E.A Aquarium is one of the largest aquariums in the world.
Children can marvel at more than 100,000 marine species spread across the facility.
They can also watch divers feeding the fish, and in some cases, touch some species themselves with the aquarium's interactive activities!
Opening Hours: 10 AM – 5 PM
Address: 8 Sentosa Gateway, Sentosa Island, Singapore 098269
10. SuperPark Singapore
If you're looking for an indoor theme park that has a little bit of everything, look no further than SuperPark Singapore!
The all-in-one indoor theme park offers a vast array of activities for both children and adults alike.
From physical activities, such as a flying fox, to a comprehensive game arena, to even a multipurpose skateboarding hall, families of all sizes will have no problem breaking a sweat in SuperPark.
Opening Hours: 9 AM – 9 PM
Address: #02-477, Suntec City North Wing, 3 Temasek Blvd, Tower 1, Singapore 038983
OUTDOOR ACTIVITIES
11. Musical Playground at Gardens by the Bay
Singapore's iconic Gardens by the Bay doesn't only have beautiful gardens. It also includes a unique outdoor musical playground for children!
Instead of the usual play area, the playground consists of multiple musical instruments alongside its respective music sheets that children can tinker with.
Since it's situated in a relatively isolated part of the garden, you won't need to worry about anyone complaining about the noise.
Children can play with the melodies to their heart's content, even in the middle of the night!
Opening Hours: 5 AM – 2 AM
Address: 18 Marina Gardens Dr, Singapore 018953
12. COMO Adventure Grove
Does your child want to feel like they're playing in a jungle? If so, then this nature-inspired outdoor playground may be the perfect destination for you!
Unlike traditional playgrounds, COMO Adventure Grove has a Banyan tree structure, making the entire area seem as if it's held by tree branches.
The playground's nature elements across its swings, slides, and obstacle course serves to inspire children to appreciate nature.
It even has a giant jackfruit for kids to play with!
Opening Hours: 7 AM – 7 PM
Address: 5 Gallop Rd, Singapore 258960
13. Coastal Playgrove at East Coast Park
If you're looking for a beachside playground, come over to this 4.5 hectare play area in Singapore's East Coast Park!
The Coastal Playgrove offers a variety of fun attractions for children, including a 4-storey vertical net play area, giant slides starting from the fourth floor, a nature playgarden, and a seaside outdoor "classroom".
Kids can play to their heart's content, both physically and imaginatively in this outdoor playground!
Opening Hours: 8 AM – 8 PM
Address: 902 E Coast Park Service Rd, Singapore 449874
14. West Coast Park Adventure Playground
Want a playground that's suitable for children of all ages? You can visit the adventure playground at West Coast Park!
This large area consists not one, not two, but a staggering six whole playgrounds for your child to play with.
From a large pyramid play zone that will challenge older children's minds to a viking playship suitable for toddlers' imaginations, parents will have no trouble finding an area fit for their child.
It even has a colorful inclusive playground that is wheelchair accessible!
Opening Hours: 7 AM – 7 PM
Address: W Coast Ferry Rd, Singapore 126978
15. Jacob Ballas Children's Garden
Looking for a kids friendly garden in Singapore? Come over to the Jacob Ballas Children's Garden!
As the first children-dedicated garden in Asia, Jacob Ballas Children's Garden offers a variety of kids-friendly nature play areas that are perfect for family outings, including a suspension bridge and tree houses.
The garden also inspires children to begin loving nature, reflected through its theme of "Life on Earth Depends on Plants".
With a farm, an orchard, and a forest with its own stream and ponds, Jacob Ballas Children's Garden provides kids with a space to explore, adventure, and play!
Opening Hours: 8 AM – 7 PM (Closed on Mondays)
Address: 481 Bukit Timah Rd, Singapore 259769
16. Mud Krank
Want to have a break from normal playgrounds? Let your child ride an ATV in Singapore's first ATV adventure park!
Mud Krank strives to make off-roading a fun family adventure for the entire family.
The facility allows children as young as 4 years old to ride on their first ATV!
With its extensive list of safety regulations and measures across the facility, you'll have no need to worry about your children's safety. Just let go and have fun!
One thing to note: it's better to book a slot at least a few months in advance, since Mud Krank is known to be loved by families all year round!
Opening Hours: 2 PM – 10 PM (Closed on Mondays)
Address: 10 Neo Tiew Lane 2 Gallop Kranji Farm Resort, Farm H Singapore 718813
17. Gallop Stable
Do you have a love for horses? Go introduce your child to horse riding in Gallop Stable!
Founded in 2003, Gallop Stable provides an affordable way for children to experience the joy of horse riding and interact with friendly horses and ponies.
The horseback riding facility offers pony rides, horse riding lessons, and other equestrian activities for beginner and veteran riders of all ages.
It's a wonderful opportunity for kids to get in touch with nature, gain self confidence, and become familiar with horses.
Opening Hours: 8 AM – 7 PM
Address: 100 Turf Club Road, Singapore 287992
18. KF1 Karting Circuit Kranji
Does your child dream of becoming a Formula 1 racer? Let them start practicing in Singapore's largest go-karting circuit!
KF1 Karting Circuit in Kranji is an exhilarating destination for racing enthusiasts of all ages.
With a professional F1 inspired lighting system and appointed safety measures for all kinds of weather, families can learn what it feels like to be an F1 racer without any worries!
Toddlers can also enjoy racing in the facility's Kiddy Circuit, where they can get behind the wheel of go-karts and experience the thrill of racing on a shorter track.
Opening Hours: 1 PM – 9 PM (Closed on Mondays)
Address: 1 Turf Club Ave, Singapore 738078
19. Singapore Zoo
Is your child an avid animal lover? If so, then they would definitely enjoy a trip to the world-renowned Singapore Zoo!
Children can interact with more than 300 animal species, from the smallest bird to the tallest giraffe.
The zoo also offers multiple immersive programs that allow children of all ages to learn more about these animals, including live animal presentations and feedings.
An exclusive children's area called the Rainforest KidzWorld is also available within the zoo, with its water play area as the favorite destination.
Opening Hours: 8:30 AM – 6 PM
Address: 80 Mandai Lake Rd, Singapore 729826
20. Wild Wild Wet
Want to cool your family down on a hot day? Pack up your child's swimsuits and come over to Singapore's Wild Wild Wet!
As one of the most famous water playgrounds in Southeast Asia, Wild Wild Wet is a favorite destination among families nationwide.
The waterpark offers a vast array of play areas and facilities for both children and adults. From thrilling slides to relaxing rides, families can enjoy a day filled with fun and avoid the unforgiving summer heat.
Opening Hours: 12 AM – 6 PM (Closed on Tuesdays)
Address: 1 Pasir Ris Cl, Singapore 519599
FUN MUSEUMS
21. Children's Museum Singapore
Children's Museum Singapore is a place for joyful learning built for children aged 12 and under.
As the first children-dedicated museum in the country, Children's Museum Singapore provides numerous fun and interactive programs and exhibitions for children to enjoy.
From origami-making programs to a "Happy Birthday" exhibition, children will have their hands full exploring every inch of the space!
It's a place where imagination comes to life, fostering learning, curiosity, and discovery for children of all ages.
Opening Hours: 9 AM – 6 PM (Closed on Mondays)
Address: 23-B Coleman Street, Singapore 179807
22. Museum of Ice Cream
Is your child an ice cream lover? Then, this museum is made just for them!
Stepping into Singapore's Museum of Ice Cream is like stepping into your childhood wonderland.
This vibrant and Instagrammable attraction features engaging installations, charming displays, and, of course, delectable ice cream.
Children can enjoy a variety of delicious desserts, dive into a pool of sprinkles, play in a unicorn playground, and make many core memories!
Opening Hours: 10 AM – 9 PM (Closed on Tuesdays)
Address: 100 Loewen Rd, Singapore 248837
23. Mint Museum of Toys
If your child is attached to their toys, visiting this museum will definitely be worthwhile!
The Mint Museum of Toys is a treasure trove of vintage and collectible toys from around the world, hosting the largest collection of vintage toys in Southeast Asia.
The name "Mint" itself stands for "Moment of Imagination and Nostalgia with Toys".
Kids can marvel at the extensive collection of toys, from classic teddy bears to intricate model cars and beloved action figures.
There's also a wide variety of interactive programmes, including an AR story coloring books, for children to explore.
Opening Hours: 9:30 AM – 6:30 PM
Address: 26 Seah St, Singapore 188382
24. Changi Experience Studio
Is your child an aviation fan? Do they want to know just how the world's best airport came to be? Then, take them over to this studio at Jewel Changi Airport!
The Changi Experience Studio offers an immersive edutainment journey behind the success of Singapore's Changi Airport alongside the world of aviation and travel.
Children can engage in more than 20 interactive exhibits on aviation, including piloting a virtual airplane and experiencing the behind-the-scenes of working in an airport.
The Changi Experience Studio is a marvelous destination for families when they are waiting to go on a trip or just have some free time in their hands.
Opening Hours: 11 AM – 8 PM
Address: Jewel Changi Airport, 78 Airport Boulevard, Singapore 819666
25. National Museum of Singapore
Want to spend time learning new things with your kids? You can consider visiting the oldest museum in Singapore!
Children can enjoy a diverse cultural and historical experience at the National Museum of Singapore.
They can learn about the history, customs, and important events of the country through entertaining storytelling, interactive exhibits, and multimedia displays.
The museum takes visitors on a fascinating trip through Singapore's past and present using both old-school artifacts and digital exhibitions.
Opening Hours: 10 AM – 6:30 PM
Address: 93 Stamford Rd, Singapore 178897
26. National Gallery Singapore
Is your family a fan of art? Come over to this leading art institution in Singapore!
Children and adults of all ages who appreciate art will find a home at the National Gallery Singapore.
The gallery strives to stimulate and foster creativity in young minds with its broad collection of artworks, interactive exhibits, and immersive experiences.
In a lively and warm setting, children can admire works of art, take part in art workshops, and discover their own artistic skills.
There's even a gallery specifically for kids: the GalleryKids! section.
Opening Hours: 10 AM – 7 PM
Address: 1 St Andrew's Road #01–0, Singapore 178957
27. Singapore Art Museum
Want to have your kids learn a little bit of arts and craft? Look no further than Singapore's beloved art museum, also known as SAM!
The Singapore Art Museum has an outstanding collection of modern artwork from Singapore and other countries.
Children can interact with many art forms, express their creativity, and develop a greater understanding for visual arts through its varied displays.
They can also enjoy a rich and comprehensive art experience at the museum thanks to its interactive exhibits and kids-friendly programs.
Opening Hours: 10 AM – 7 PM
Address: 39 Keppel Rd, #01-02 Tanjong Pagar Distripark, Singapore 089065
28. Singapore Chinese Cultural Centre
Want your child to learn more about their cultural roots without getting bored? Then, this iconic cultural center may be the answer for you!
Chinese heritage and culture are celebrated by the Singapore Chinese Cultural Centre through a range of interesting events and displays.
The center offers a lively setting for kids to understand, enjoy, and engage with Chinese cultural traditions through interactive displays, performances, and workshops.
The traditional Chinese arts, music, dance, and crafts are only several cultural artifacts that the center showcases to children.
Opening Hours: 10 AM – 8 PM (Opens at 2 PM on Mondays)
Address: 1 Straits Blvd, Singapore 018906
29. ArtScience Museum
Is your child a fan of both arts and science? Let them explore their interests in Singapore's ArtScience Museum!
Situated at the renowned Marina Bay Sands, the ArtScience Museum fuses art, science, and technology to produce a singular and enthralling experience.
Children can engage in hands-on activities that combine creativity and scientific ideas while exploring interactive exhibitions, discovering cutting-edge installations, and interactive exhibits.
The museum serves as a playground for inquisitive minds and promotes experimentation, investigation, and creative thinking.
Opening Hours: 10 AM – 7 PM
Address: 6 Bayfront Ave, Singapore 018974
30. Trick Eye Museum
Want to have a fun and eye-opening experience with your family? Come over to explore Singapore's TrickEye Museum!
The museum offers an optical illusion wonderland that serves to provide fun-filled activities for both children and adults.
Kids love to interact with the paintings and become a part of them through the cleverly constructed 3D artworks, making for priceless photo opportunities.
The museum stimulates imagination, creativity, and playful exploration with its interactive exhibits and visual gimmicks.
Opening Hours: 11 AM – 7 PM
Address: 80 Siloso Road, Southside, Blk B, #01-04, Singapore 098969
Have your child learn and play with Practicle!
With this list in hand, you'll be able to find more ways to spend some quality time with your child and celebrate Children's Day!
There is also a pattern behind these places and activities, as most of them actively emphasize children learning through play.
In fact, studies have found that this method is incredibly effective in children's education.
If you want to replicate this into your child's studies, you can try using Practicle's math learning game to start!
We utilize gaming features, such as exciting quests and pet avatars, to teach Singapore math more effectively to primary school students.
Our MOE-based curriculum also covers engaging video tutorials and AI math tutors!
Utilize our 7-day free trial to test the game for yourself without making a commitment.