It's easy to find some good places to study in Singapore, but what about ones suited for kids? Finding a suitable study spot for children isn't as easy as you think, these spaces need to be friendly environments. Children also can't go to these spaces on their own – they need to be accompanied by a parent or guardian.  In this article, we'll go through 8 places to study in Singapore that are suitable for kids. Use these options to figure out where you'll be heading with your child next!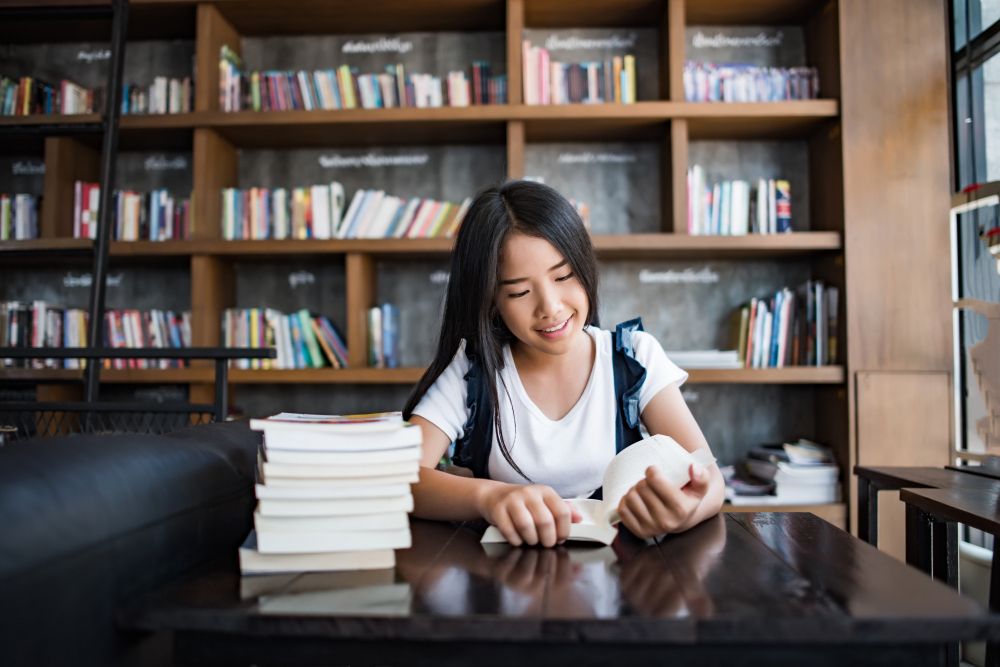 Bedok Public Library
If you're looking for a study area with a nature vibe, look no further than the Bedok Public Library, on of the best places to study in Singapore! You'll find themes of nature everywhere in this library, from its interior design to its green study areas.  Speaking of study areas, the library has something suitable for all ages! From an early literacy area filled with children's books to computers stations for children to browse the Internet. Next to various comfortable study nooks spread out across the space.  The library's spacious design and homey feel also means that children won't feel stifled or cramped studying there! You can reserve a seat online and tour the library with a VR tour here! Opening Hours: Monday – Sunday (10:00 AM – 09:00 PM) Location: 11 Bedok North Street 1, Levels 2-3 at Heartbeat@Bedok, Singapore 469662
Our Tampines Hub 
If you're seeking a large community hub that has a bit of everything, look no further than Our Tampines Hub! This center has many useful facilities. If you're looking to study there, the hub is also known for its picnic-style benches scattered across the area. These study spots have been a favourite for students of all ages to hold study sessions and group discussions after school! What's even better is that this spot is open 24 hours! Parents can come in at any time to keep an eye on their kids and help themselves to other available facilities. Opening Hours: Monday – Sunday (24 hours daily) Location: 1 Tampines Walk, Singapore 528523
Tampines Regional Library
If you're looking for a quiet library inside Our Tampines Hub, you can check out the Tampines Regional Library!  This spacious library houses lots of comfortable and quiet study areas across the building. Its floor-to-ceiling windows means the library is full of natural lighting, giving children a vitamin D boost while studying!  The library also offers an early literacy area for young children. Next to entertainment activities after they're done studying, including an indoor playground! The library also has a MakeIT makerspace service. Here, children can take a break by trying out 3D printing and other digital services for free!  Check out the library through a virtual reality tour! Opening Hours: Monday – Sunday (10:00 AM – 09:00 PM) Location: 1 Tampines Walk, Level 2 at Our Tampines Hub, Singapore 528523
Changi Airport
If you want another study spot that has a bit of everything, why not go to Singapore's beloved Changi Airport?  Who says you can only go to an airport if you're traveling? If that airport's Changi Airport, you certainly wouldn't say so! Changi Airport has everything students need in a study area:
Fast and free Wi-Fi
Lots of power sockets
Multiple study and lounge areas
Much-needed cold air conditioning
Indoor playground
Loads of restaurants with many food options
Facilities and 24/7 services available in Changi Airport, you wouldn't need to go anywhere else while your child is studying! Opening Hours: Monday – Sunday (24 hours daily) Location: Airport Blvd., Singapore
Community Centres
If you want to have a local study spot option, check out your local community centres! Community centres aren't just for community gatherings and events. Plenty of them offer quiet study facilities for local students., and they are available for free! Not only are these centres closer to your home, it can be a familiar environment for children as well. Some centres even also offer free food and entertainment activities, so they'll have everything provided for you! Opening Hours: Monday – Sunday (10 AM – 6 PM, on average) Location: The nearest community centre to you
Library@Harbourfront
If you're looking for a study spot around the Sentosa area, come over to the Library@Harbourfront! The Library@Harbourfront houses an extensive space with floor-to-ceiling windows. Free Wi-Fi, comfortable reading lounges, and a children's area are also available. Children can sit in the reading lounge and do some productive studying with a view of the Sentosa's amazing waterfront. They can choose between the many immersive activities available, such as a virtual storytelling room and digital learning pods! When they're done studying, parents can also take the children outside to enjoy the Sentosa area! Check out the library's facilities through another quick VR tour here!  Opening Hours: Monday – Sunday (11:00 AM – 09:00 PM) Location: 1 Harbourfront Walk, Levels 3-5 at VivoCity (Lobby F), Singapore 098585
Parks & Gardens
If you want an outdoor study option, try going to a local park or garden!  While air conditioning is good and all, sometimes we all need to breathe in some oxygen from mother nature themselves. Singapore has tons of luscious parks and gardens that have appropriate sitting areas for children to study. They're also often nearby other related facilities or services. If the children are hungry, it's usually a few minutes walk to the nearest restaurant or food truck. They can also wind down by playing in the park playground or have fun with friends and family. The 967 pioneer rooftop garden has many sitting areas that are perfect for studying or reading. You can get a bite from nearby restaurants along Pioneer Road North or pack some lunches to bring in the car! Opening Hours: Monday – Sunday (24 hours daily, on average) Location: The nearest park to you
Study Room at United Square Shopping Mall
If your child wants to squeeze in some studying in a mall. Check out the study room at United Square! The United Square is known to be a family oriented shopping mall. In 2017, the mall redesigned one of its retail spaces into a study area to accommodate students who came to the mall with their families. The area has a simple vibe with free Wi-Fi and comfy desks, allowing students to focus on studying with minimal distractions. Instead of spending their money at a cafe to get a study space, parents can simply take their children to this study area and not spend a single dollar! Opening Hours: Monday – Sunday (10 AM – 9:30 PM) Location: 101 Thomson Rd, Singapore 307591
Check these spots out with Practicle!
There are tons of good places to study in Singapore for kids! Now you'll be prepared when your child asks to study outside the home. Children can study all kinds of topics in these study places. With the free Wi-Fi and power sockets these places offer, they can also bring their gadgets with them to study. One way your child can study using their gadgets is with Practicle's math learning game! You'll find a personal daily math practice through fun quests and daily challenges.
Are you curious on how that works? Try out our 7-day free trial today!