Primary 4 to Primary 5 jump
Avoid that result drop. Conquer problem sums.
Seeing a huge dip in your child's results from Primary 4 to Primary 5 can come as a shock and be really scary, especially when your child has been doing well in P4 all along.
Like many parents, Mummy Jasmine was worried when she saw her son's Math result drop from a Band 1 in Primary 4 to a AL5 in Primary 5.
Some of the worries on her mind were:
My son came from a stretched class. Is he having some problems coping with Primary 5?
Cayden mentioned that P5 was very hard, what's the best way to help him?
He has always been a playful boy. How can I get him to focus on his studies?
Will his results slide even further at the end of the year if I don't do something about it?
She was really concerned. Being a mother of 3, she needed something that is wallet-friendly, doesn't require frequent travelling and effective enough to help her son get back to where he was before.
The free trial that ended her worries
Mummy Jasmine came across Practicle. With a friendly cost of $1/day, she decided to let her son try it out because it was:
1. Convenient:
Practicle fits into Cayden's schedule seamlessly. He can learn at his own pace anytime at the comfort of his home.
Mummy Jasmine doesn't need to worry about logistics issues.
2. Useful:
Cayden understands better with Practicle's detailed worked solution and video explanations. She knows that he is constantly tested for his understanding of important Math concepts and heuristics so that he doesn't forget.
Mummy Jasmine can put her mind at ease. She doesn't need to spend time thinking how to teach him how to solve difficult Math questions using his school's method or ask her friends for help anymore.
3. Engaging:
Cayden feels motivated to do Math practice on his own and enjoys revising. He logs in Practicle daily and is always eager to earn rewards through his own efforts.
Mummy Jasmine feels proud of him because she doesn't need to nag at him to do work anymore and he always shares his Math adventures with her.
When his End-of-year exam results were out
When Cayden came home after his SA2 Math exam and told me it was very easy, I was very scared because I don't know if I can believe him.
To her surprise, Cayden's grade got a boost from 68 marks to an almost-perfect 97 mark!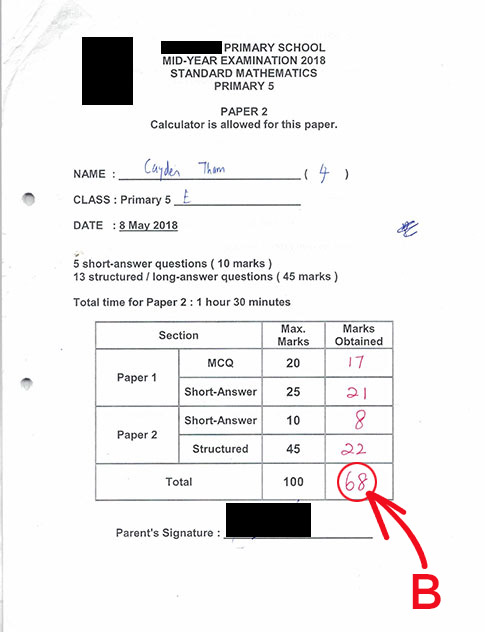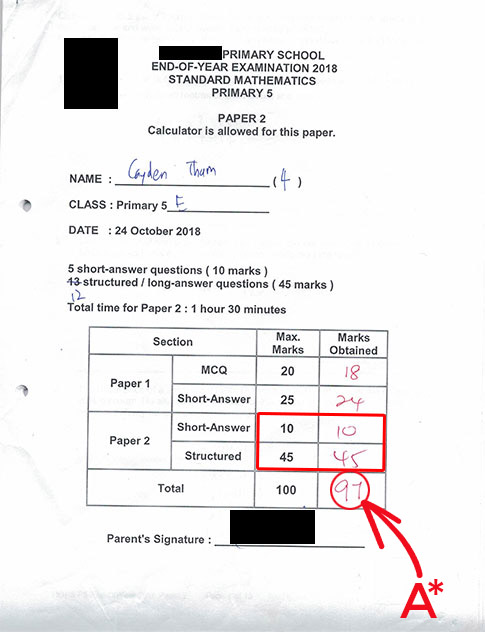 Cayden has forgotten the fear he has for problem sums in the past. He now feels more confident and looks forward to doing problem sums!
How Cayden improved 2 grades in 3 months with Practicle
The short practice sessions of 15 – 30 min/day helped with his short attention span & made sure his time was spent productively.
Our adaptive system measures what he knows with what is needed in school & selects Math questions that focuses on his weaknesses.
We help him build the habit of consistent practice with our fun, gamified practice. Cayden logs in everyday & Math concepts stick better as a result.